Courtesy:
http://amrithavarshini.proboards.com/thread/990/#ixzz3aBlS7Y00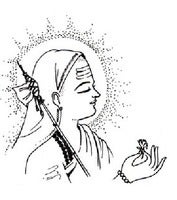 Raga – Kalyani – Lyrics by Sri Vaalee – Music & Singer Sri Ilayaraja 

Shivah Shakthya Yukto Yadi Bhavati Shaktah Prabhavitum
Na Chedevam Devo Na Khalu Kusalah Spanditumapi
Atas tvam Aaradhyam Hari-Hara-Virinchadibhir api
Pranantum Stotum Vaa Katham Akrta-punyah Prabhavati

(Soundarya Lahari – Verse 1)
Lord Shiva, only becomes able, to do creation in this world along with Shakthi. Without her, Even an inch he cannot move. And so how can, one who does not do good deeds, Or one who does not sing your praise, Become adequate to worship you. Oh, goddess mine, Who is worshipped by the trinity.
ஜனனீ ஜனனீ! ஜகம் நீ அகம் நீ!
ஜகத் காரணி நீ! பரிபூரணி நீ!

ஒரு மான் மழுவும் சிறு கூன் பிறையும்
சடைவார் குழலும் இடை வாகனமும்!
கொண்ட நாயகனின் குளிர் தேகத்திலே
நின்ற நாயகியே இட பாகத்திலே!

ஜகன் மோகினி நீ! சிம்ம வாஹினி நீ!
ஜகத் காரணி நீ! பரிபூரணி நீ!

சதுர் வேதங்களும் பஞ்ச பூதங்களும்
ஷண் மார்க்கங்களும் சப்த தீர்த்தங்களும்
அஷ்ட யோகங்களும் நவ யாகங்களும்
தொழும் பூங்கழலே! மலை மாமகளே!

அலை மாமகள் நீ! கலை மாமகள் நீ!
ஜகத் காரணி நீ! பரிபூரணி நீ!

ஸ்வர்ண ரேகையுடன் ஸ்வயமாகி வந்த
லிங்க ரூபிணியே மூகாம்பீகையே!
பல தோத்திரங்கள் தர்ம சாஸ்திரங்கள்
பணிந்தேத்துவதும் மணி நேத்திரங்கள்!

சக்தி பீடமும் நீ! சர்வ மோட்சமும் நீ!
ஜகத் காரணி நீ! பரிபூரணி நீ!